The Water Buffalo
March to November: El Carrizal La Pampa
The water buffalo or domestic Asian water buffalo (Bubalus bubalis) is a large bovid found throughout Southeast Asia, India, Australia, South America, North America, Europe and parts of Africa.  Water buffalo were introduced into the Amazon River basin in 1895 and have expanded across South America over the last 150 years.  They are now extensively used there for meat and dairy production. Feral water buffalo have been hunted in Argentina for quite some time.  In 2005, the buffalo herd in the Brazilian Amazon stood at approximately 1.6 million head of which approximately 460,000 were located in the lower Amazon floodplain. In Argentina, many game ranches raise water buffalo for commercial hunting. Breeds used include Mediterranean from Italy, Murrah and Jafarabadi from India, and Carabao from the Philippines.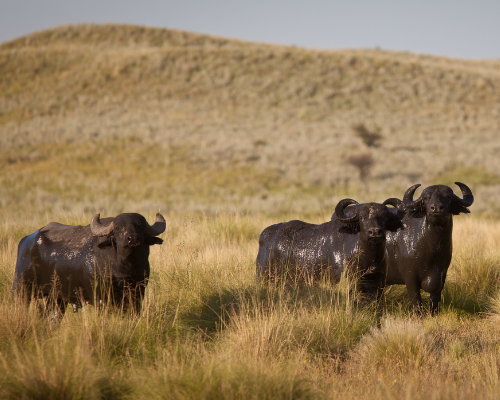 PACKAGES FEATURING THE WATER BUFFALO
Custom Tailored Big Game & Bird Hunting Programs
Season: March – July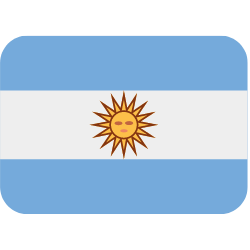 6 Nigths and 5 Hunting Days

One free range Red Stag trophy (no limit on score)

Full board lodging – Open Bar

One-on-one guiding
.
The Water Buffalo
March to November: El Carrizal La Pampa
The water buffalo has black skin and some have dark slate-colored skin.  Swamp buffaloes have a grey skin that later becomes a slate blue.  Water buffalos on rare occasions have been to known to be albino. River buffaloes have longer faces and bigger limbs compared to swamp buffaloes.  Swamp buffaloes are bigger bodied and quite stocky with short bodies.  Weights can range between 1500 and 2200 lbs. Water buffaloes is not as aggressive as it African counterpart but these are massive animals that when cornered or wounded can easily turn against the hunter.  Water buffalo come from Southeast Asia and have the ability to adapt to a large number of topographies.  We mainly find them in wet grasslands, swampy areas, puddles and in or near rivers.  These buffalo can have 1.2 meters maximum distance between the outer edges of their horns.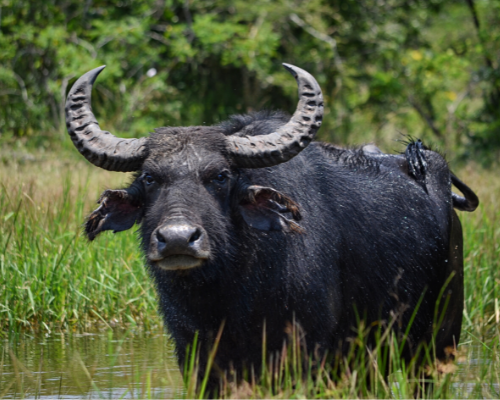 What We Provide Our Hunters...
As to plains game, we suggest riffles such as 7 mm RM or 300 WM caliber, fitted with a good scope. For water buffalo we recommend 375 HH caliber or bigger. For birdshooting 20 Ga. semi-automatic models are specially recommended. South American Adventure Safaris will provide premium quality ammunitions in 12 or 20 Ga. For 16, 28 and 410 calibers, please, order them in advance.
Munitions and cartridges will have to be dispatched in a hard box by separate as a registered baggage.